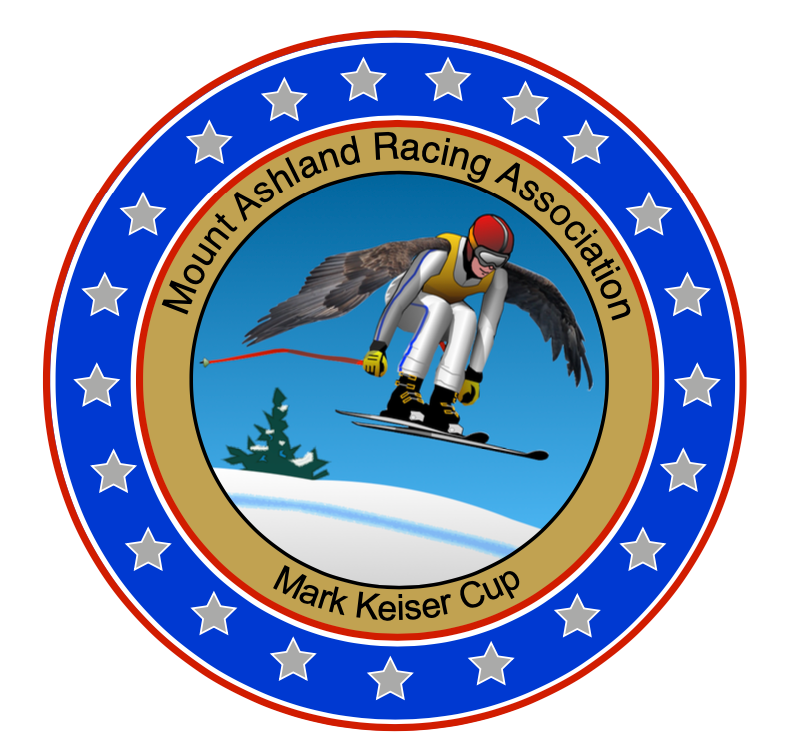 The Keiser Cup
Mark Keiser had an unbounded joy for life and the outdoors. When it came to skiing, he wasn't about "the stuff," but about the freedom and the rush – the feeling of flying on the hill.
Under the wing of their dad, Dave, Mark and his brother Eric, pioneered ski racing in Southern Oregon. They traveled every weekend to Mt. Bachelor before Mt. Ashland was established. They both had very fruitful racing careers. We owe everything to their origin and vision!
In the late 90's, Mark's life was tragically cut short in an accident. As tribute, we race in his memory.
As always, MARA athletes are not required to race, but it is encouraged! The entirety of the race event is a fun time filled with camaraderie!
The success of our hosted races is largely dependent on the volunteers who staff it. No task is too difficult or require previous experience, this is a youth race!
Race Info
February 24-25, 2024
Slalom on Saturday and Giant Slalom on Sunday (two runs each race)
Men and women, boys and girls (non scored event)
Seeding by age classification, youngest to oldest by class
8:00am Finish Arena setup volunteers meet outside the locker lodge
8:00-9:00am Registration and bib handout outside the locker lodge
8:45 Athletes gather outside locker lodge
9:00am Athletes ski off and all other volunteers meet
9:15-9:45 Course inspection
10:00am approximate start of first run
Lunch: Racers are encouraged to eat and hydrate between their first and second run. Following a lunch break, racers will meet with coaches at approximately 11:45am outside the locker lodge. Racers are expected to check in with their coach before lunch break as to confirm when they should return for second run course inspection.
12:00 approximate start of second run course inspection
1:00pm approximate start of second run
Awards ceremony will be at the race hut (located at the race course finish) at approximately 3:00pm or as otherwise announced at the end of the race
Coat return for 9 Week MARA athletes will be after awards, outside the locker lodge from 3:00-3:30pm
***All schedules are tentative and subject to snow and/or weather conditions***
Eligibility:
Open to all club and sanctioned ski racers U8-Masters (ages 7 and up).
*** Helmets required ***
Entry Deadline:
Wednesday, February 21st at 11:45pm. Entries must be completed online by entry deadline. No late registrations will be accepted. 
Entry Fees:
$22.00 per event. Sign up and pay online.
Late Entries:
There will be no late entries accepted. No exceptions.
Cancellations:
24 hours before race by phone 541-708-1523 or email admin@mtashlandracing.com
Bib Handout:
Begins at 8:15am each morning at the MARA Hub. Bibs are returned to MARA at the finish of their second run on each race day.
Lift Passes:
Must be purchased from Mt. Ashland directly. Visiting racers get discounted lift tickets!
***Lift prices are subject to change and are made by Mt. Ashland.***
Volunteers:
If positions are still available, visiting parents are invited to help with the race. A Mt. Ashland ski pass will not be provided for race day. If you anticipate being able to help, please email us.
Awards:
Awards will be held at the race hut at 3:00pm or as otherwise announced at the end of the second run. All participants will receive a MARA sticker. The top 3 of each U8 through Masters classes will receive a medal.
Visiting Racers:
When planning your trip to race at Mt. Ashland, make sure to take advantage of our MARA discount with our preferred hotel – Ashland Hills Hotel & Suites, located just 20 minutes from Mt. Ashland.
With discount code: MARA, enjoy 15% OFF your stay during 2023 and 2024 ski seasons! To book your stay visit hotel website and include code MARA in the PROMO CODE window, or call hotel directly at 541-482-8310 and ask for MARA discount.
Ashland Hills Hotel & Suites amenities and services include:
Complimentary hot continental breakfast
Seasonal outdoor pool and jacuzzi
Free Wi-Fi
Tennis and pickleball courts
Fitness room
Free parking
EV charging stations
Waterstone Spa Studio
Onsite LUNA Café + Mercantile offering lunch, dinner, spacious indoor and outdoor seating and great gourmet house made pastries.
WAIVERS
Liability Release Agreement