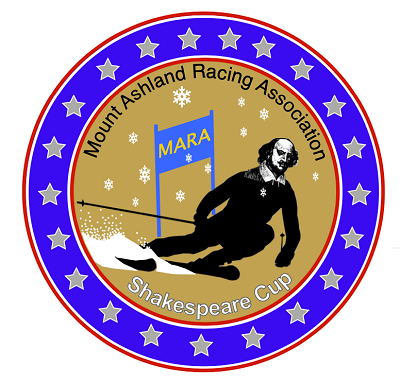 The Shakespeare Cup
To race, or not to race, that is the question! Our first race of the season kicks off as homage to the historic Shakespeare Festival in our beautiful city of Ashland. All MARA athletes are encouraged to participate!
Giant Slalom is scheduled for Saturday and Slalom on Sunday.  The course will be set on the Lower Winter ski run, our usual race location.
We understand that competition is not for every athlete! MARA athletes who choose not to race will still ski on their regularly scheduled training day. Be advised, coaches and peers may differ as majority will be attending to the races.
Race Info
January 27-28, 2024
Giant Slalom on Saturday and Slalom on Sunday (two runs each race)
Men and women, boys and girls (non scored event)
Seeding by age classification, youngest to oldest by class
8:00am Finish Arena setup volunteers meet outside the locker lodge
8:00-9:00am Registration and bib handout outside the locker lodge
8:45 Athletes gather outside locker lodge
9:00am Athletes ski off and all other volunteers meet
9:15-9:45 Course inspection 
10:00am approximate start of first run 
Lunch: Racers are encouraged to eat and hydrate between their first and second run. Following a lunch break, racers will meet with coaches at approximately 11:45am outside the locker lodge. Racers are expected to check in with their coach before lunch break as to confirm when they should return for second run course inspection. 
12:00 approximate start of second run course inspection 
1:00pm approximate start of second run
Awards ceremony will be at the race hut (located at the race course finish) at approximately 3:00pm or as otherwise announced at the end of the race
***All schedules are tentative and subject to snow and/or weather conditions***
Eligibility:
Open to all club and sanctioned racers U8-Masters (ages 7 and up). Skiers only.
*** Helmets required ***
Entry Deadline:
Wednesday, January 24th at 11:45pm. Entries must be completed online by the entry deadline. No late registrations will be accepted.
Entry Fees:
$22.00 per event. Sign up and pay online.
Late Entries:
There will be no late entries accepted. No exceptions.
Cancellations:
24 hours before race by phone 541-708-1523 or email admin@mtashlandracing.com
Bib Handout:
Begins at 8:15am each morning at the MARA Hub. Bibs are returned to MARA at the finish of their second run on each race day.
Lift Passes:
Must be purchased from Mt. Ashland directly. Visiting racers get discounted lift tickets!
***Lift prices are subject to change and are made by Mt. Ashland.***
Volunteers:
If positions are still available, visiting parents are invited to help with the race! If you are in need of a volunteer ski pass, please let us know by Friday, January 26th. Mt. Ashland is offering volunteer ski passes to those in need of a ski pass for the day. If you anticipate being able to help, please email us or see a board member on race day.
Awards:
Awards will be held at the race hut at 3:00pm or as otherwise announced at the end of the second run. All participants will receive a MARA sticker. The top 3 of each U8 through Masters classes will receive a medal.
Visiting Racers:
When planning your trip to race at Mt. Ashland, make sure to take advantage of our MARA discount with our preferred hotel – Ashland Hills Hotel & Suites, located just 20 minutes from Mt. Ashland.
With discount code: MARA, enjoy 15% OFF your stay during 2023 and 2024 ski seasons! To book your stay visit hotel website and include code MARA in the PROMO CODE window, or call hotel directly at 541-482-8310 and ask for MARA discount.
Ashland Hills Hotel & Suites amenities and services include:
Complimentary hot continental breakfast
Seasonal outdoor pool and jacuzzi
Free Wi-Fi
Tennis and pickleball courts
Fitness room
Free parking
EV charging stations
Waterstone Spa Studio
Onsite LUNA Café + Mercantile offering lunch, dinner, spacious indoor and outdoor seating and great gourmet house made pastries.
WAIVERS
Liability Release Agreement

I acknowledge that ski racing is a hazardous activity and that I have made a voluntary choice to participate in the MARA Youth Ski Program at the Mt. Ashland Ski Area despite the risks that it presents. I agree to ASSUME ANY AND ALL RISKS OF INJURY OR DEATH which may be associated with or result from my participation in this event. I further agree to RELEASE FROM LIABILITY and to INDEMNIFY AND HOLD HARMLESS the organizers of this program MT ASHLAND RACING ASSOCIATION, MT ASHLAND ASSOCIATION d.b.a. SKI ASHLAND and their owners, agents, landowners, affiliated companies and employees from any and all claims by or on behalf of myself and or the participant arising out of or related to racing, training, instruction, conditioning, use of ski area premises or facilities, and or travel to and from activities, including any and all loss, claim or damage resulting from or occurring due to participant's failure to have and or wear a helmet which is required to participate in a MARA sponsored event. Despite this requirement, I understand that helmets are not designed to prevent injury under all circumstances and that use of a helmet is no guarantee for my safety.

MARA routinely takes photographs and videos of its athletes for promotional materials. I grant exclusive permission to MARA to use my child's image and/or my image or likeness in photographs and/or video for the purpose of publicity, public relations, or other advertising purposes without compensation and without restriction as to frequency and duration.

I, THE UNDERSIGNED, HAVE CAREFULLY READ AND UNDERSTOOD THIS AGREEMENT AND ALL OF ITS TERMS. I UNDERSTAND THAT THIS IS A RELEASE AND INDEMNITY AGREEMENT WHICH MAY PREVENT ME OR ANY OTHER PERSON FROM RECOVERING ANY DAMAGES IN THE EVENT OF DEATH OR ANY INJURY TO THE PARTICIPANT. I, NEVER THE LESS, ENTER INTO THIS AGREEMENT FREELY AND VOLUNTARILY AND AGREE THAT IT IS BINDING UPON ME, MY HEIRS, ASSIGNS AND LEGAL REPRESENTATIVES. RELEASOR HEREBY ACKNOWLEDGES THAT I WILL NOT BE PERMITTED TO PARTICIPATE IN ANY MARA SPONSORED EVENT WITHOUT A HELMET.